RESERVATIONS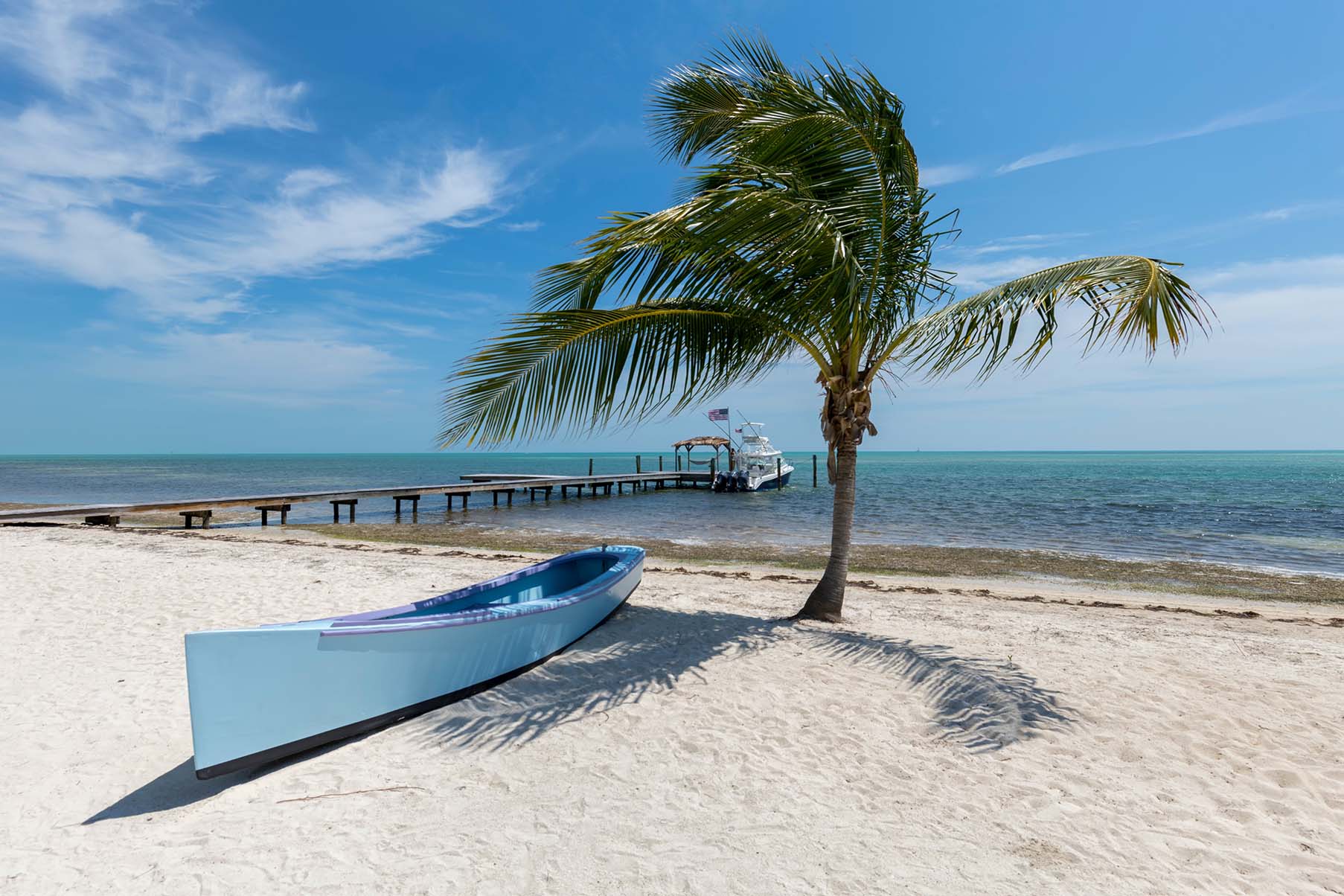 When can we check in/out?
Check-in for an RV Site is 12:00 - 6:00 PM Monday thru Saturday and 1:00 - 4:00 PM on Sundays. The gate to the resort closes at 6 PM and is only accessible to registered guests. Check-out time is 11:00 AM on your day of departure. Any late arrival or departure requests must be approved by the resort manager.
Condo check-in is 3:00 PM - 6:00 PM; check-out time is 10:00 AM.
What's your cancellation policy?
Cancellations may be made up to 15 days prior to arrival for a refund minus the booking fee. Up to 48 hours prior to arrival, upon request we can move your stay to our wait list, which allows you to apply all money paid towards a future trip (up to one year from your original arrival date). Unfortunately, we cannot offer refunds for any cancellations made within 48 hours of arrival.
What if there's a hurricane?
Refunds will not be granted for cancellations within 48 hours or early departures from RV sites, except under official hurricane evacuation orders by the County or State of Florida. If State or local authorities issue a Mandatory Evacuation Order for the immediate area prior to your arrival on site, you can choose to receive a full refund or reschedule your stay with us. If a Mandatory Evacuation Order is issued during your stay with us, you will be refunded a pro-rated amount for any unused time.
Do you offer monthly rates?
Extended stay rates are available for visits in the winter months (November – February). Please call for pricing.
What types of RVs are allowed?
We only accept RVs newer than 10 years old. We do NOT accept any camper vans, pop-up RVs or rental RVs. Triple-axle trailers must be approved prior to booking a reservation.
What are your SMS terms of service?
When you opt-in to the service, we will send you an SMS message from (850) 789-3512 to confirm your signup.
This service is used to send you notifications about your reservation, including payment reminders, checkin/checkout instructions and entry codes.
You can cancel this service at any time. Just text "STOP" to (850) 789-3512. After you send the message "STOP" to us, we will send you a reply message to confirm that you have been unsubscribed. After this, you will no longer receive messages from us. If you want to join again, text "START" to the same number and we will start sending messages to you again.
If at any time you forget what keywords are supported, just text "HELP" to (850) 789-3512. After you send the message "HELP" to us, we will respond with instructions on how to use our service as well as how to unsubscribe.
Carriers are not liable for delayed or undelivered messages.
As always, message and data rates may apply for any messages sent to you from us and to us from you. Message frequency varries. If you have any questions about your text plan or data plan, it is best to contact your wireless provider.
If you have any questions regarding privacy, see our privacy policy.
SITES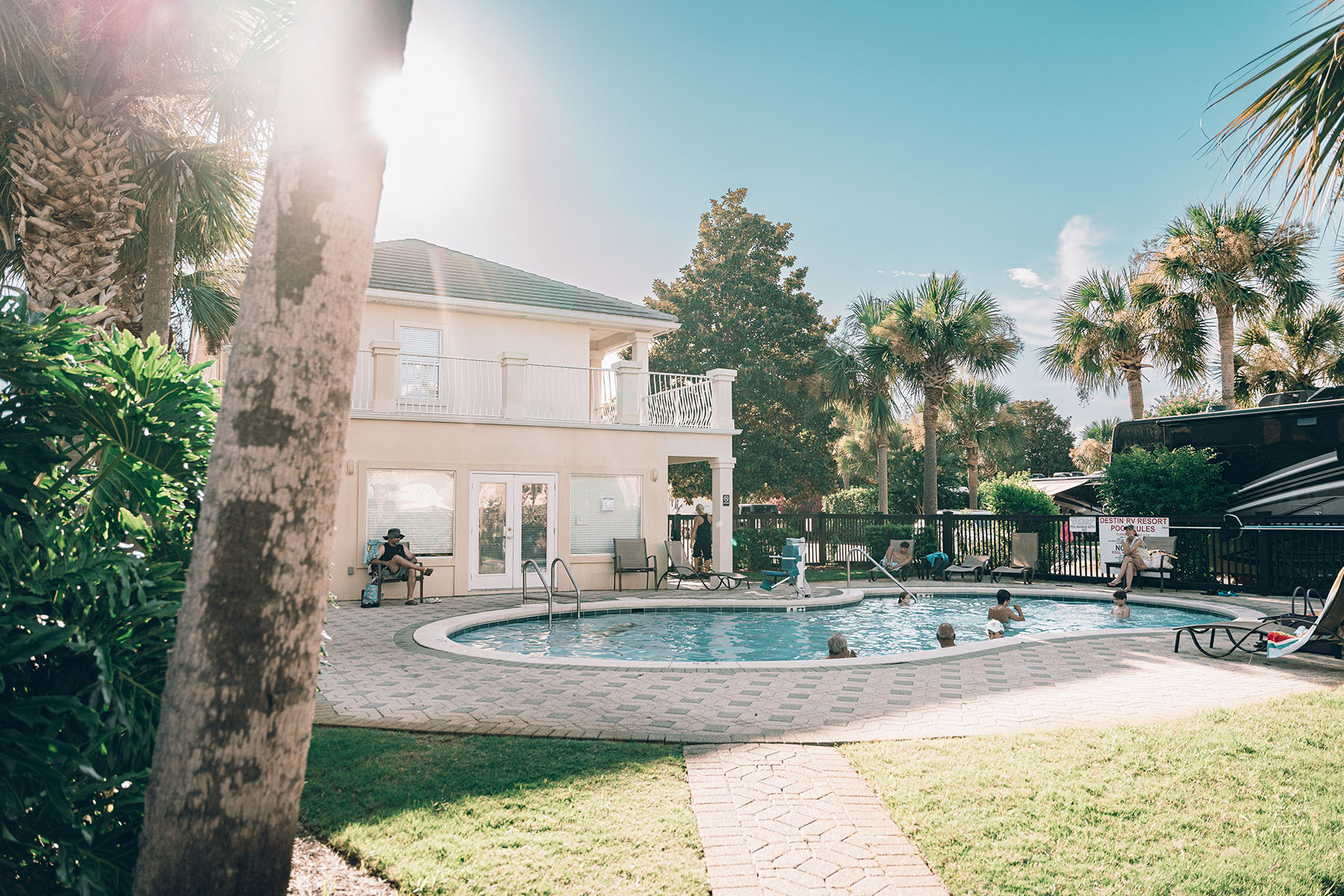 Where do we park?
Your site will accommodate your RV and one vehicle only. We have limited overflow parking for extra vehicles for an additional daily charge. Off-site parking is also available.
Can I park my trailer on site?
Most trailers must be parked nearby at Geronimo for a fee. Please contact them at 850-424-6801 for pricing.
What site utilities are included?
All sites include water, sewer, 30 and 50 amp hookups, and Wi-Fi access.
What size are the RV sites?
RV sites are approximately 60 feet deep and 20 feet wide.
Can I receive a delivery while I'm here?
The Welcome Center will accept and hold packages on your behalf, as long as they have your name and site number listed on the delivery.
How many people can I bring?
A maximum of six occupants per site are allowed. Tents, hammocks, and canopies are not permitted on sites. If you have more than six occupants, please rent one of our on-site condos.
Can I bring my pet?
Guests are allowed to bring two pets per site. All pets must be accompanied and on a leash while outside, and may not be walked on other guests' sites without permission.
Pets cannot be aggressive or a nuisance to others, which includes constant barking from inside the RV. If you are leaving a pet inside the RV while you are away from the site, we recommend ensuring all windows and doors are closed to reduce the noise.
All pet waste must be cleaned up immediately. If a mess is discovered on your site, it will be assumed it is from your dog, so please notify management if other guests are not in compliance.
Per Walton County Ordinance, dogs are not allowed on the beach. Violation of this ordinance carries a $150 fine. However, dogs are allowed at the Bay. Legion Park is a great place for pets to run around and get out some energy! https://sowal.com/place/legion-park-bay-access
Can I cook on my site?
UL-approved propane grills and solo stoves are permitted on the cemented patio areas. Campfires, fire pits, and charcoal grills are not allowed. If you're craving open flames, beachside bonfires are available.
Where can I do laundry?
An on-site washer and dryer are available for guest use. To maintain a tidy appearance, we insist guests refrain from hanging clothing or towels to air dry on their RV, clotheslines, or bushes.
Can I smoke?
Smoking is not permitted in public areas, in accordance with Florida law.
Will my site be loud at night?
Quiet time is enforced between 10 PM and 9 AM as a courtesy to all guests.
LOCAL FUN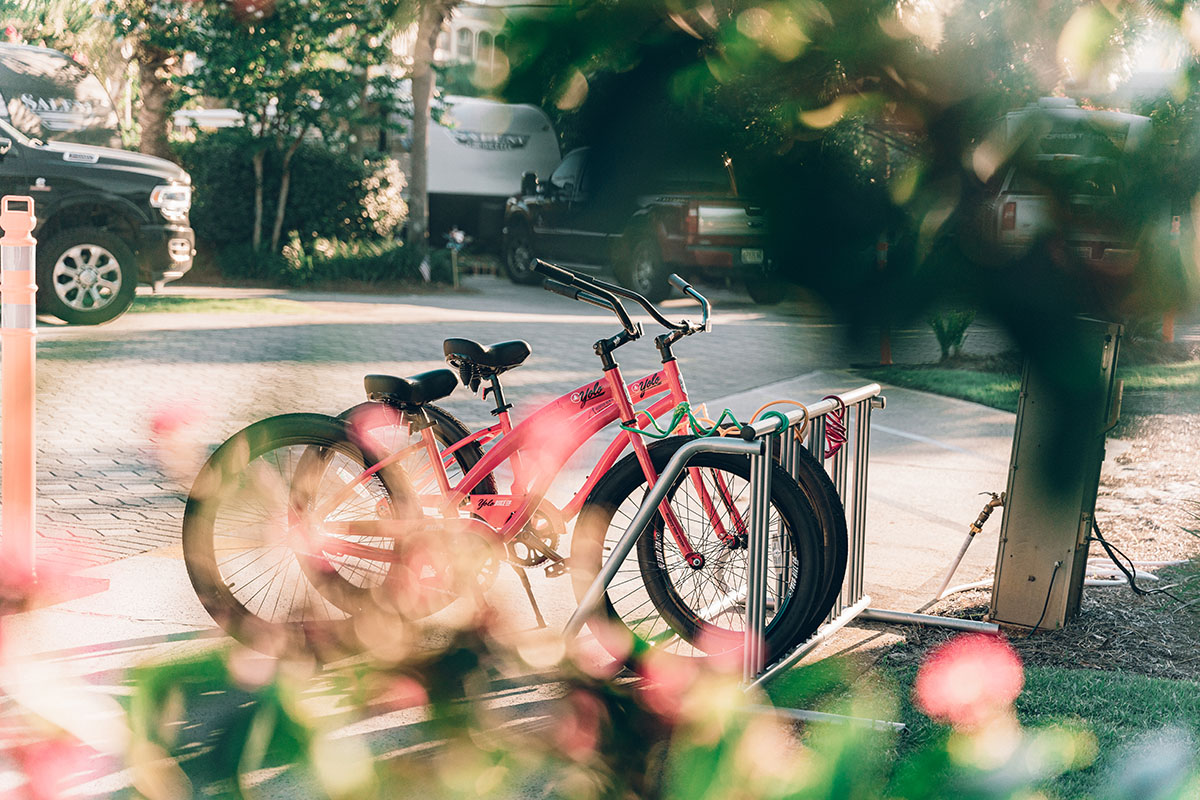 How close is the beach?
Our private beach access is located approximately 200 yards from the resort.
Can I see the beach from my site?
Unfortunately, the beach will not be visible from your site, but it is only a short walk away.
Can I park at the beach access?
Yes, parking is available and free for both cars and golf carts.
How far is Destin from you?
Destin is a quick 5 – 15 minute drive from the resort.
What is there to do nearby?
There are many places to eat within walking distance, from fine cuisine to family dining. The local area supports a robust nightlife! There are many bars and live music options, including Club LA in Destin only a 10-minute drive away.
Where can I drive my golf cart?
You can drive a street-legal golf cart on all roads where the posted speed limit is 35 mph or less. You may cross over roads with a higher speed limit (including Highway 98), but not drive down them. A golf cart must have DOT-approved seatbelts, a windshield, and wipers to be considered street legal.
Where can I get my RV washed?
There are many local RV-washing companies; please check the Welcome Center for information.
What is there to do nearby?
Something is always going on in a tourist town. There are many places to eat within walking distance, we have fantastic shopping options, and a plethora of activities and adventures are available. Check out the Attractions page for some inspiration!
We look forward to having you stay with us at the Destin RV Beach Resort!
---
Failure to adhere to these policies may result in fees incurred or removal from the resort without a refund.